MICROWAVE DAVE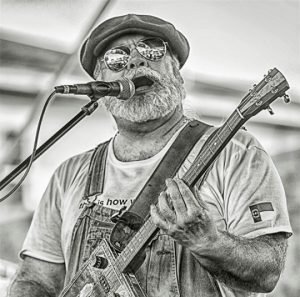 Dave Gallaher's decades-long career was inspired by an experience he had when he was a 4th grader in Dallas, TX in 1955. His school had an assembly program that would change his life forever. The school's band director was a friend with a member of a high energy Dixieland jazz group called the Cell Block 7 and invited them to play for the students. Good enough to be booked on the Ed Sullivan show, the band mesmerized Dave with this live performance, so full of energy and passion. His enthusiasm soared, his body moved and his love affair with live music was born. For over 30 years, Dave has played an important part in the music and educational scene in Huntsville, AL. The Microwave Dave Music Education Foundation's goal is to expand the work that Dave began so long ago.
Thirty-two years of performances in the U.S and Europe have helped Microwave Dave establish a wide multinational audience. The "Nukes" have performed in international stadiums, bars, blues festivals, blues cruises and continue to have a major performance presence during Daytona's Bike Week.  Microwave Dave Gallaher was born in Chicago but has lived the majority of his life in the Deep South. His life growing up was steeped in music, beginning with singing in a children's choir and rambling through a host of instruments including trumpet, French horn, ukulele, guitar, and a bit of accordion. After serving his country during Vietnam, he returned to the states to purse his passion and career in music, attending Berklee College of Music in Boston. In Boston, Dave joined Cameron and Company and moved to Ft. Lauderdale, Florida for a twelve-year run. Eventually renamed Cameron, the band recorded three albums and played 300+ dates a year, including many concerts appearances with name attractions of the period. During three years of Nashville-based touring, Dave began to long for the music that was closer to his blues / r&b foundation, and he moved to Huntsville, Alabama in the mid 1980s and took up woodworking, including lunch-break guitar jams with his foreman, Rick Godfrey.
Dave formed Microwave Dave & the Nukes in 1989. Over the years have developed an international following among blues fans both young and young at heart. Early Nukes' success includes backing legends Jerry "Boogie" McCain and Bo Diddley. Microwave Dave was named "Southern Blues Guitarist of the Year/Modern" in 2003. Writer Stephen King praised the Microwave Dave & the Nukes song "Highway 49." "That electric slide will change your way of life," King wrote. Watch a live performance of "Highway 49" below. Microwave Dave is the longtime host of "Talkin' the Blues," a Huntsville-based radio program that airs on radio stations WLRH 89.3 FM and on WJAB 90.9 FM. The band's seventh and most recent studio album, "Last Time I Saw You," was released in October 2011.  It is his passion for music education and charitable contribution that has brought him high acclaim. At a very young age a musician that performed influenced him in his 4th grade class and as they say, "The rest is history!" It is this passion that has allowed him to focus on the youth of Alabama as he continues to perform on-campus concerts and sit in with music classes to teach and inspire area youth. Microwave Dave Gallaher was recognized by the Mayor of Huntsville, Alabama, Mayor Tommy Battle, in 2015 with the declaration of Microwave Dave Day and was given a key to the city for his significant community and charitable involvement, a first for any entertainer from the space capital of the south. Microwave Dave and the Nukes continue to educate the youth of America about the history of the Blues through their love and passion for the genre and as Dave stated, "Blues is America's and still best-self-help program." The current band line-up includes founding bass player, Rick Godfrey and the "youngster" drummer, James Irvin.
For more information visit Microwave Dave and the Nukes.